How to Build an Automatic Driveway Gate
You will be thankful once your driveway gate is automated for many reasons. To begin, it will be handy when those fierce summer storms blow through and you don't want to get out of your car just to open the gate. The benefits are many, but you do need to do some work on the front end in order to successfully build your automatic driveway gate. Here are a few tips designed to help you do just that.
Choose the Right Spot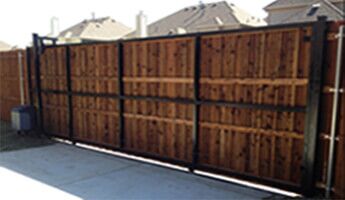 This is important. You need to envision your gate fully opened. Look around and make sure that there are no potential obstructions, either now or in the future. You do not want to go to the trouble of building your gate only to have to relocate it later because you forgot to consider something that was going to be in the way.
Get Proper Measurements
When you get ready to set your posts, you need to measure them several times before you solidify them. A suggestion is to use white flour to signify the exact spot where they will go. As soon as you dig the holes and put the posts in them, measure that distance again just to verify.
PVC Pipe Is Useful
For an automatic driveway gate, PVC pipe is your friend. You will want to use this material as it is an effective conduit between two different posts. This is especially useful when you are building a bi-parting swing gate. You can use string to thread the PVC. This will allow you to fasten it to the opening wire, and then you can just pull it on through as soon as you are ready to do so.
Put Posts Behind the Pillars
You might have pillars in the area where you are going to build your automatic driveway gate. That is fine, but you should still put some posts up behind them. This will prevent you from having to drill directly into the pillars. Posts also provide a smoother mount, allowing the opener to actually function a lot easier.
As you get ready to build your automatic driveway gate, remember to be prepared, Get your tools ready and have them laid out so you don't have to keep going back to look for what you need. With some preparation ahead of time, you can do this successfully the first time.