Here at Nortex Fence & Patio we build a lot of fences, many of them on top of retaining walls. In case you came here with the question "what is a retaining wall?", we've put together this short guide to explain what retaining walls are, and to help you decide if you want or need one on your Dallas property.
What are Retaining Walls?
Retaining walls are built to hold back the soil on a slope or a hill. One side of the wall is always facing a mound of soil and the other side is not. In houses that have basements, the exterior walls of the basement actually are retaining walls. They create the underground space needed to efficiently heat a home in areas with cold winters. By design, they create space where no space is, in houses built on a concrete slab without a basement.
Typically used to reclaim space in hilly terrain that would otherwise be unusable, retaining walls are strictly utilitarian. But they can also be a beautiful addition to a yard or commercial property, depending on the materials used to build them.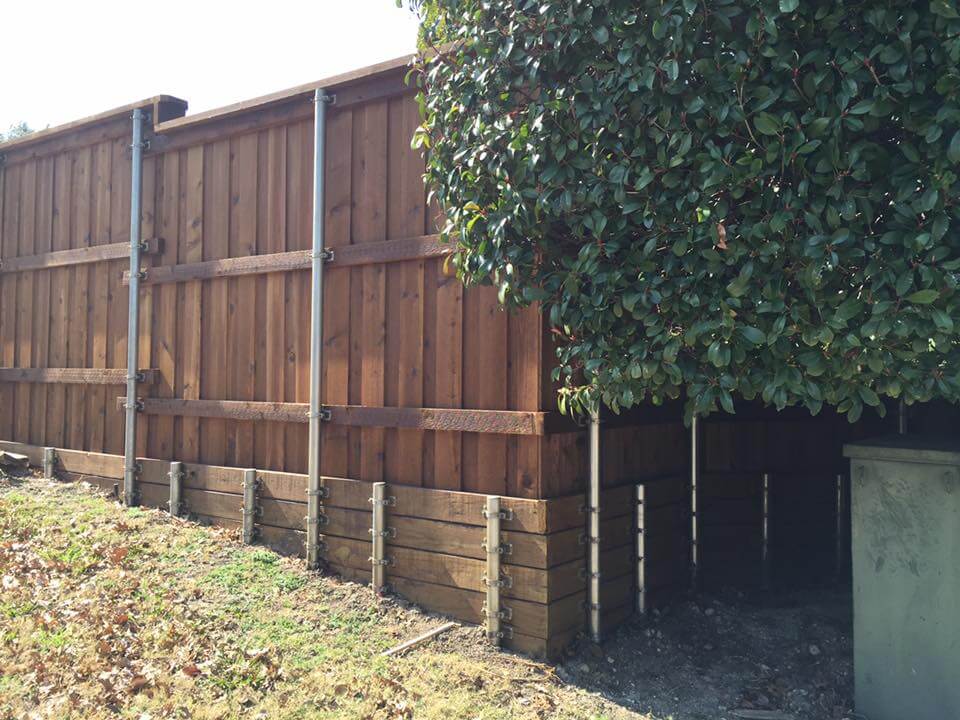 Common Uses for Retaining Walls
While the most basic use of a retaining wall is to keep the soil on a hillside from moving, that's not the only use for them.
Instead of one tall, formidable wall rising from ground level to the top of the hill in question, you can install a series of shorter walls, each set back further as you go up the hill. The result is a series of terraces that break up the space. This will eliminate the "fortress" feeling that inevitably comes along with a high wall, especially if it is taller than most people.
Retaining walls are also built to hold back a slight slope when the property owner wants a tall fence installed on the border of their property. If you just put the fence at the bottom of the slope, all of the space near the fence would be unusable and mowing the lawn there practically impossible. But by filling in the slope on the inside of the retaining wall, you gain extra square footage in your yard. Plus it is easier to mow a flat surface. A further benefit is that the fence posts will not be set directly into the ground, thereby extending their useful life.
Types of Materials Used for Retaining Walls
You're probably asking yourself what are retaining walls made of? Many are made of wood, but you can't just stack the wood up and fill in behind it with soil. You must properly anchor it into the hillside by installing lengths of wood that are part of the structure of the wall, but that jut out perpendicularly into the hillside. These "deadmen," as they're called, help keep the weight of the soil from toppling the wall. You also need to make sure that drainage is provided from behind the wall so water does not build up in the soil, which will also cause the wall to fail.
Natural stone and either poured concrete or concrete blocks are other popular material choices for retaining walls. Manufactured stone—usually made of a concrete-based mix—can be installed without mortar easily. Natural stone can also be made into a retaining wall without mortar, but is best installed by someone who has knowledge and skills in stonework. A stone or concrete wall installed without mortar can last a long time, like the pyramids in Egypt.
Common Uses for Retaining Walls
If you are wondering what a retaining wall is used for, the answer is probably to reclaim space on a hillside that would otherwise be wasted space. By definition, a retaining wall "retains" the earth behind it and its entire height is only visible from the other side of the hill. Any other exterior wall made of any material is just a wall.
Nortex Fence & Patio has been in business in the Dallas area since 1988. We are locally owned and we provide our neighbors with excellent workmanship and the best prices, guaranteed. We offer personalized, individual service from start to finish of your retaining wall project. We strive to maintain our reputation as a local business deeply committed to giving you personal service.
We specialize in custom cedar fences, as well as decks, driveway gates, retaining walls and more. We can help you transform your outdoor space, whether residential or commercial, into whatever look and feel you desire.
Please contact us to learn more about how we can help you create the landscape you want for your home or business.